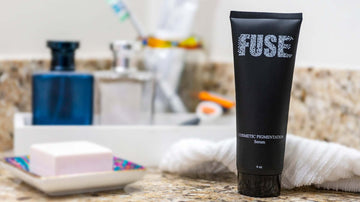 Fuse is effective in all phases of a shaved head
Shiny Scalp
Sebaceous glands can cause an unwanted shiny scalp that stands out from a distance.  They secrete oil and make it difficult for any lotion to absorb on the scalp.  Fuse is fast absorbing with a light texture that even absorbs on that difficult scalp surface to keep the shine away throughout the day.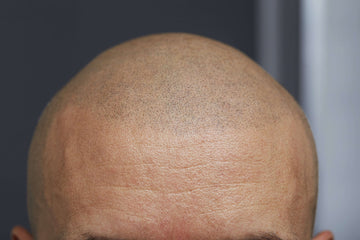 Scar Reduction
For some people, a concern of a shaved head is that it will reveal a hidden scar from an accident or surgery from a hair transplant that normally would be hidden when your hair was longer.  Fuse contains Tiger Grass that with daily use helps to reduce the scar.
Scalp Micropigmentation
Scalp Pigmentation is in the range of $1,500 to $5,000.  Over time the procedure and pigmentation fade resulting in costly touch-ups.  You're thrilled with your procedure and you want a way to maintain it.  Fuse provides color retention and blends your existing hair follicles with your SMP procedure.
Anti – Aging
You might often hear that you look younger with a shaved head.  Let's keep it that way!  Aloe & Vitamin E helps with skin blemishes and tightens skin promoting a more youthful look.
One bottle will last you up to 3 months applying the lotion twice daily, morning and night.
Fuse Skincare is proudly designed developed and created right here in the United States